Home
519-533-5177
If you are looking for a used motorcycle check out the prices on all our certified motorcycles.  Remember our no interest, no storage fee and no admin. fee on all of our certified motorcycles with a 25% deposit and delivery taken before the end of April 2019.
Check out our Promotions section, we add new items every week.
Our hours of operation are Tuesday - Friday 10am to 6pm, Saturday 10 am to 4 pm

WE SELL USED MOTORCYCLE TIRES.  WE CARRY A WIDE SELECTION OF SIZES AND BRANDS OF MOTORCYCLE TIRES.  GIVE US A CALL FOR AVAILABILITY AND A PRICE QUOTE.
PLEASE "LIKE" US ON FACEBOOK
We need motorcycles and / or motorcycle parts to add to our inventory, fair prices paid, just give us a call.
Ride a little, save a lot
JUST PURCHASED
2011 Kawasaki EX400R for parts
2001 Honda 750 Ace for parts
2013 Kawasaki EX300 R would be a great track bike
1989 Kawasaki ZX750 R for parts
2009 Kawasaki EX250 R for resale
2002 Kawasaki VN1500 Nomad for parts
2008 Suzuki GSF1250 Bandit for parts
2005 Suzuki GSX600 Katana for parts
2004 Suzuki VL800 Volusia for parts 
1982 Yamaha 650 Maxim for parts
2001 Yamaha V-Star 1100 Classic pending resale
2016 Honda CB300 F for parts
2012 Honda CBR250 pending resale
2006 Honda VT750C Aero for parts
1985 Honda GL1200 Limited fuel injection for resale
N.C.K. Cycle Salvage was established in 1993 as a family run operation that caters to the cost minded motorcycle enthusiast. Specializing in both new and used parts and accessories for the four major Japanese brands: Yamaha, Honda, Kawasaki and Suzuki. 
Check out our inventory of certified used motorcycles.
We also buy used and damaged motorcycles.
See us at N.C.K. Cycle & Salvage for those much needed new or used parts. Used parts are priced considerably less than the cost of new.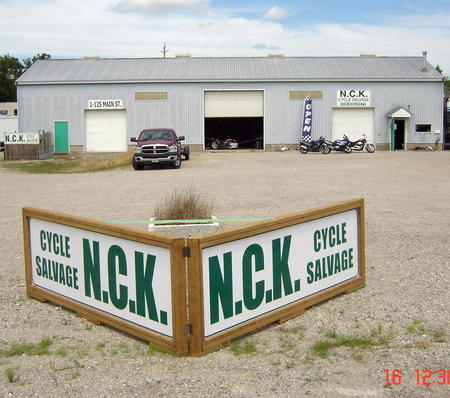 How to find us
125 Main Street
Woodstock, Ontario
N4S 1T1
Phone: 519-533-5177
Email: info@nckcycle.com